St Pats promotes Gaelic games from U6 up to senior level.
Our senior team plays in the Kerry County Senior league and participates in the Kerry Junior Premier championship.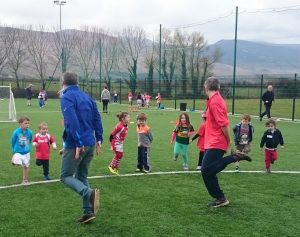 National Club Draw - Buy A Ticket
Due to Covid 19 restrictions

tickets are available to purchase online only.


Tickets are €10 each….To buy a ticket for the National Club draw click 

on button below
All monies raised through ticket sales remains with St. Pats….thanks for your support and best of luck with your ticket purchase
To play  the Club Lotto on line is very simple….

 

PLAY LOTTO
Lotto tickets are also be on sale through our outlets at: O'Sheas GALA shop Blennerville, Poff Motors, O'Sullivan Butchers – Manor, Byrnesworth shop – The Square, Noyeks – Mile Height, and individual promoters.
December 2020 edition of GAA Club Newsletter includes the following:
This month's edition includes the following:
– Clubs encouraged to register for 'Ireland Lights Up'
– 45 clubs take part in GAA Green Club programme
– AIB launches 'The Toughest Season'
– Coaching programme and support returning to schools
For boys & girls aged 5 years to 10 years of age from Tralee area.


Every Sunday, from 10:30 am to 11:30 am

Venue: St. Pats GAA Club Grounds, Blennerville
The Academy had the last session for 2020 on Sunday 11t October. It is anticipated that the Academy will  recommence during January 2021.
For further information please contact Joe on 087 – 2593800  or Seán on 089 – 4340037
Astro Pitch Hire
St Pats GAA club, Blennerville offers a state of the art, floodlit astro pitch available to everyone to rent. This pitch is supported by our clubhouse with changing rooms, shower facilities and ample parking spaces.
If you are interested in booking our pitch to guarantee your slot weekly or you want a one-off booking, please contact
Paul O'Sullivan on 087 666 8492 to avail of our very competitive rates.
Useful Links to GAA & LGFA sites
   Kerry GAA
The official Website of Kerry GAA

   My GAA 
The official Website of the National GAA

   Kerry Coiste na nÓg
The official Website of Kerry Stars of the Future (Coiste na nÓg)
   Kerry Ladies Gaelic Football
The Official Website of Kerry Ladies Gaelic Football
   North Kerry Ladies Gaelic Football
The Official Website of Kerry Ladies Gaelic Football
National Ladies Gaelic Football Association
The Official Website of Ladies Gaelic Football Association
Thanks to Lee Strand for sponsoring a set of jerseys for our Under 14 girls team. Jerry Dwyer of Lee Strand presented the new jerseys to the team.
New Code of Behaviour 2019 for Those Involved at Underage Level
The GAA and its sister organisations recently launched the online version of the Code of Behaviour (Underage). This Code has been agreed between the GAA, the Ladies Gaelic Football Association, the Camogie Association, GAA Handball Ireland and GAA Rounders. This Code applies to all persons under
18 yrs. of age who participate in our games or other activities and to those who work with them and assist them in any capacity on behalf of the GAA /LGFA

The Code replaces all previous Codes and is a mandatory Code of Behaviour for all Gaelic Games Associations in our work with underage players. It is a comprehensive good practice guidance publication for players, coaches, parents and other Club personnel.