St Pats promotes Gaelic games from U6 up to senior level.
Our senior team plays in the Kerry County Senior league and participates in the Kerry Junior Premier championship.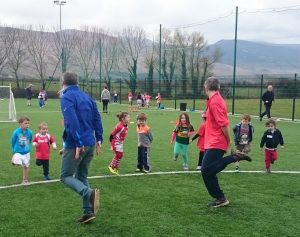 Return to Play
Steps 1,2,3
As the GAA moves into the  re-opening phase of Gaelic Games activities there is a need to ensure that we all continue with the practices and efforts
required to reduce  the spread of Covid-19 spread infection.  
Players, Team Personnel and Parents/Guardians need to be aware of their roles and responsibilities so that St. Pats can return to activity in a safer way.
Prior to returning to activities with St. Pats please ensure that you are compliant with the

steps 1 to 3

listed under 'Return to Play…..'
For boys & girls aged 5 years to 10 years of age from Tralee area.


Every Sunday, from 10:30 am to 11:30 am

Venue: St. Pats GAA Club Grounds, Blennerville
(due to GAA procedures to allow for  'Return to Play' as  the Coronavirus-19 restriction measures ease please check in advance if you are considering joining us for a session)
For further information please contact Joe on 087 – 2593800  or Seán on 089 – 4340037
June 2020 edition of GAA Club Newsletter includes the following:
Information on the Return to Play Health Questionnaire.
Plans for the 2020 Kellogg's GAA Cúl Camps.
The GAA's zero tolerance for Racism in Gaelic Games.
How the LGBTQI+ community are being encouraged to play Gaelic Games.
Suspension of Club Lotto
Having reviewed the current measures in place to mitigate the spread of the Coronavirus (Covid-19) the Club has decided to suspend the St. Pats Club Lotto activity (sale of tickets / weekly draw) from Saturday 28th March.
We  will act in line with the Government / HSE advice when deciding to activate our Lotto again.
The succes of our lotto involves members / promoters selling tickets on a weekly basis, collecting tickets from supporting retail outlets and running the draw on Sunday evenings.
The measures now in place to deal with the spread of the Coronavirus don't allow for these activities.
All lotto entries that have been received for draws during the period of Lotto suspension will be included when the Lotto draws resume.
We trust that all our Lotto entrants appreciate the reason for this decision.
We thank all our promoters and supporters of the St. Pats Club Lotto and we look forward to your support again hopefully in the not too distant future.
Astro Pitch Hire
St Pats GAA club, Blennerville offers a state of the art, floodlit astro pitch available to everyone to rent. This pitch is supported by our clubhouse with changing rooms, shower facilities and ample parking spaces.
If you are interested in booking our pitch to guarantee your slot weekly or you want a one-off booking, please contact
Paul O'Sullivan on 087 666 8492 to avail of our very competitive rates.
Useful Links to GAA & LGFA sites
   Kerry GAA
The official Website of Kerry GAA

   My GAA 
The official Website of the National GAA

   Kerry Coiste na nÓg
The official Website of Kerry Stars of the Future (Coiste na nÓg)
   Kerry Ladies Gaelic Football
The Official Website of Kerry Ladies Gaelic Football
   North Kerry Ladies Gaelic Football
The Official Website of Kerry Ladies Gaelic Football
National Ladies Gaelic Football Association
The Official Website of Ladies Gaelic Football Association
Thanks to Lee Strand for sponsoring a set of jerseys for our Under 14 girls team. Jerry Dwyer of Lee Strand presented the new jerseys to the team.
New Code of Behaviour 2019 for Those Involved at Underage Level
The GAA and its sister organisations recently launched the online version of the Code of Behaviour (Underage). This Code has been agreed between the GAA, the Ladies Gaelic Football Association, the Camogie Association, GAA Handball Ireland and GAA Rounders. This Code applies to all persons under
18 yrs. of age who participate in our games or other activities and to those who work with them and assist them in any capacity on behalf of the GAA /LGFA

The Code replaces all previous Codes and is a mandatory Code of Behaviour for all Gaelic Games Associations in our work with underage players. It is a comprehensive good practice guidance publication for players, coaches, parents and other Club personnel.